Mobile Bidding 101
No doubt about it, Mobile Bidding has been the topic of the past couple of years around here. We spent a lot of time thinking about whether it made sense for our core customers and if so, how we should implement it. We rolled out a version of it quietly last fall, learned a lot, and revised the feature over the summer. Then we revamped our annual plans, with the goal of making it affordable for the types of organizations we tend to work with, and BOOM - a whole lot of you decided to try it at this year's auction.
_ _
For those of you who are still trying to figure out whether it's right for your event, we've written this post to explain what Mobile Bidding is, and how our implementation of it works. Call it Mobile Bidding 101.
_ _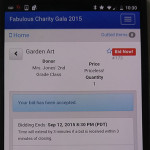 What is Mobile Bidding?
It's a system that allows guests at your gala auction to bid on silent auction items using their smartphone, rather than by writing their bid number and name on paper sheets.
_ _
How Does It Work?
You (the auction chair or procurement captain) adds an item to your SchoolAuction.net database, and select the Mobile Bidding option on the Item Edit screen, adding an opening and closing time for the item (you can also do this later, in bulk). At your event, your guests follow a link that the software will have already emailed to them (text messages are also an option). This logs them into the site under their account, shows them a list of the items available for mobile bidding, at which point they select the ones they would like to bid on, and enter either their bid.
_ _
Do the Guests Have to Download an App?_ _
No, it uses the web browser on their smartphone.
_ _
What If the Guest Gets Outbid?
They get notified three ways - in the browser, by email, and on the Display Screens that you can choose to project in the room. You can also opt to notify them via text message.
_ _
And If They Win?
The item is automatically added to their account, and they can pay for it along with their other winnings at check-out.
_ _
What About the Live Auction? The Paddle Raise?
The auctioneers who we approached to consult with us on the development of this feature were united on this point - mobile bidding undermines the auctioneers ability to influence the guests through peer pressure and psychology. We're smart enough to listen to these fundraising gurus, and to pass their wisdom along.
That said, Premium subscribers can choose to use mobile bidding for their live auction items and special appeal/paddle raise.
_ _
How Is This Different from an Online Auction?
Mobile Bidding is an enhanced version of our online auction system - with the tools necessary for getting many guests logged in to their bidding account quickly, and for efficiently and instinctively browsing large numbers of items on tiny screens (this is harder than it sounds).
_ _
What If a Guest Has Problems, or Forgot Their Phone?
Ideally, you will have a couple of volunteers walking around with iPad minis (or another small tablet) - if they are logged in as an Admin, they can place a bid on any Mobile Bidding item on behalf of any guest.
_ _
Can I Use This for Proxy Bidding?
Yes - just make sure that any guest who cannot attend the event but who wants to participate in the bidding has a ticket for your event - it can be a free or low-priced "Mobile-Bidding-Only" ticket, but they do need to be entered as a ticket-holding guest in your SchoolAuction.net database.
_ _
Does SchoolAuction.net Provide Staff, or Devices for Us to Hand Out to Guests?
No - this is the main way we keep our costs so much lower than the competition. We are pretty confident that your guests have smartphones, and are likely to bring them to your event. And we know we can train your volunteers to be bidding assistants, at a much lower cost than putting people on planes to travel to your event (and put them up in a hotel room afterwards).
_ _
Thoughts? Questions? Let us know your experience with mobile bidding in the comments below. We grow and learn by your feedback. And stay tuned for more on the future of Mobile Bidding.