11 Silent Auction Software Platforms to Reach Your Goals
11 Silent Auction Software Platforms to Reach Your Goals
It's time to plan your next charity auction! Everything from your auction event staff to your procured items and even your promotional efforts requires careful planning. Whether it's your first silent auction or you're a certified auction veteran, planning a silent auction can be time-consuming.
Even if every detail is planned out perfectly, your event day can throw some curveballs. This is where a streamlined silent auction platform can come into play. These software platforms equip your auction event team with the right tools to manage and execute a seamless silent auction from start to finish.
Silent auction software platforms keep you organized and save you time while enhancing the bidding experience for your guests. There is a wide range of tools available for every auction event type. We've provided a list of our top picks to set your team on the right track:
Browse these options one by one, or jump to the end to discover our tips on how to select the right silent auction software.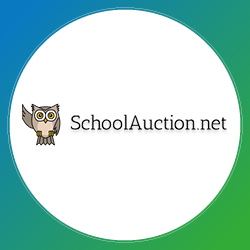 1. SchoolAuction.net – Our Top Pick
SchoolAuction.net - Best overall silent auction software
SchoolAuction.net is the perfect silent auction software solution for school groups and volunteer-driven organizations wanting to run a silent auction.
The platform includes features such as hybrid and virtual live-streaming capabilities, voting contests, mobile bidding, recurring donations, sponsorship packages, and more. The best part is, these services are specifically designed with school groups in mind, so they'll drive up bids without breaking your budget.
Why we like this auction software
As a PTA or PTO member, hosting a silent auction may not be at the top of your list of specialties. That's why this silent auction software is built to keep your auction organized and running smoothly, without getting users bogged down by the details.
Schoolauction.net's customizable event sites will help you promote your event ahead of time, while their support team can answer your questions and ensure you pull your event off without a hitch. Additionally, with built-in mobile bidding and payment processing flexibility, you can streamline the bidding and checkout process. This means that your auction guests can enjoy the ease of bidding from their devices and experience a shorter wait time to pick up their prizes once the event comes to a close.
Auction software pricing
SchoolAuction.net's pricing starts at $79 per event. This affordable option offers full-service software to help groups get started with auction fundraising. Other pricing options are available for groups looking to scale up their auction events.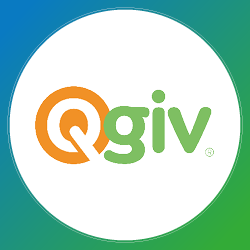 2. QGiv
QGiv - A modern silent auction software solution
QGiv is an app-based platform that lets silent auction attendees bid from their phones, eliminating lines. QGiv's event management and registration real-time reporting features keep you organized and up to speed on the latest silent auction updates.
QGiv is designed to further donor engagement by offering a modern, intuitive online giving experience.
Why we like this auction software
As a more modern software solution, QGiv is great for nonprofits running multiple silent auction events per year. With customizable forms and event tools, you can easily distinguish each auction event with specialized branding features.
Qgiv's centralized dashboard and entire fundraising suite keep all of your silent auction campaigns in one place. This means that you can easily access event and registration activity, in-depth donor stats, and comparative event data over time.
Auction software pricing
QGiv offers a variety of pricing packages. Visit their website to select the one that's best for you.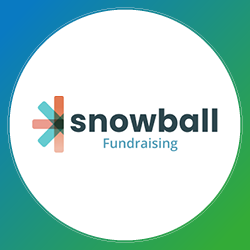 3. Snowball
Snowball - User-friendly silent auction software
Trusted by over 15000 organizations, Snowball is a go-to platform for silent auctions. Their software provides an all-in-one solution with data collection and management features so you can effortlessly filter, track, and export your transaction and donor data.
Equipped with Snowball's spiffy auction catalogs and mobile bidding features you can take on your next auction with confidence.
Why we like this auction software
Snowball's software can help build pre-auction bidder suspense. Use their auction countdown feature and have guests receive real-time notifications leading up to your event to get them excited to start bidding.
Plus, their text-to-bid options let auction guests place bids without having to anxiously hover over a bidding sheet. These features encourage more bidder engagement, and in turn, raise more funds for your cause.
Auction software pricing
Begin with Snowball's free Essential Plan to jumpstart your fundraising efforts. Or, choose between Premium, Professional, and Enterprise pricing options for larger auction events.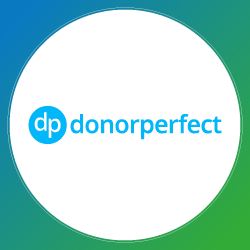 4. DonorPerfect
DonorPerfect - High donor data functionality
By keeping your auction data and organization tools in one place, DonorPerfect seamlessly manages all of your fundraising elements within their donor management system. This platform is ideal for larger organizations that are looking for a solution that lets them add an unlimited amount of users.
DonorPerfect's reliable database uses advanced import tools and file storage to manage your donor and gift data. Their detailed profiles indicate why a donor gave to your organization, so you can know how to engage them in the future.
Why we like this auction software
At DonorPerfect, there is always an expert team available to solve your software hang-ups before they escalate to full-scale roadblocks. These experts will help you save time, grow your supporter base, and promote your cause.
DonorPerfect also has a webinar series available to explain their auction software basics, so you don't have to lose time discovering their platform's ins and outs by yourself.
Auction software pricing
DonorPerfect offers flexible terms and affordable pricing, providing five pricing options. Check out their page to learn more.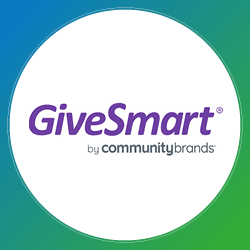 5. GiveSmart
GiveSmart - Built-to-grow donor management and silent auction software
Givesmart's intuitive CRM (customer relationship management) capabilities simplify fundraising and donor management. This platform can be used by nonprofits of any size from large organizations to small, local operations. From a distinguished annual event to a last-minute fundraiser, GiveSmart's got your back
GiveSmart's platform is built for fundraising growth as it includes a wide range of functionalities, from detailed data integrations to customizable campaign management.
Why we like this auction software
GiveSmart provides silent and live auction capabilities, so you can be flexible with your fundraising event efforts. Other features, like their "buy it now" options, allow competitive bidders to secure an item they really want and are willing to pay big for to win outright.
Additionally, GiveSmart's automated tax receipts and thank you letters let your auction staff take a breather after hosting the event.
Auction software pricing
GiveSmart has flexible pricing plans based on your event needs. Review their pricing page to learn more.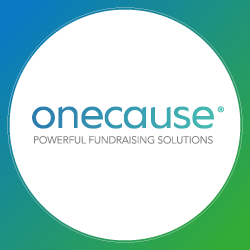 6. OneCause
OneCause - Streamlined silent auction software
As a leading silent auction software provider, OneCause has mobile bidding, virtual fundraising, and event management built-in to their centralized platform.
Their intuitive software solution enables you to track guest information and accept payments tickets and bids with one unified solution. And, their advanced mobile bidding capabilities notify guests of the latest updates for their favorite fixed-price items.
Why we like this auction software
OneCause provides efficient and effective silent auction event management. This software makes item procurement and tracking simpler than ever with its item and package management tools.
OneCause's guest management tools also help you create an organized environment for auction attendees. Use their ticketing and checkout management tools to keep guests organized.
Auction software pricing
OneCause offers a variety of pricing options available for any event. Choose between their essential or enterprise packages, or contact them for a quote.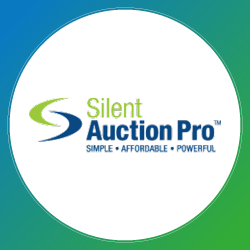 7. Silent Auction Pro
Silent Auction Pro - Comprehensive silent auction software
Silent Auction Pro offers incredibly accessible ticket and bidding data. Their powerful silent auction software centralizes several auction elements that are easy to lose track of such as marketing communications, event, and ticketing management.
With outstanding support and traditional paper bidding and online capabilities, you can customize your auctions with the exact features you need.
Why we like this auction software
Running several auctions per year can cause a strain on your team's energy while putting your organizational efforts to the test. That's why Silent Auction Pro's comprehensive fundraising solution is great for busy groups who have multiple auctions per season.
Their ticketing and seat-saving capabilities provide live auction flexibility, as well. If you need to switch your auction format, Silent Auction Pro's software solution has your back.
Auction software pricing
Silent Auction Pro has a wide range of price packages based on virtual, hybrid, or in-person auction needs.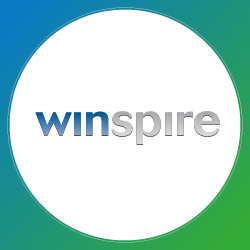 8. Winspire
Winspire - Auction item consulting service
Although not technically silent auction software, Winspire's auction item consulting services are sure to drive up auction bids. With around 200 unique experiences available, Winspire's item procurement capabilities pair nicely with larger auction events.
To generate excitement at your auction, Winspire's experiences include luxury vacation packages, ensuring you have a few big-ticket prizes for bidders.
Why we like this auction service
Winspire's strengths are found in its expert support staff and auction item flexibility. Winspire's team has years of management experience and can help you sort out your silent auction odds and ends.
Their no-risk auction items policy provides some extra wiggle room, meaning if your experience is not sold at the minimum bid, no transaction with Winspire takes place. Therefore, auction winners enjoy redeeming their prizes and you can maximize your incoming revenue.
Pricing
Because of their no-risk policy, WInspire's pricing varies based on auction items sold. Visit their website to learn more about their auction item resources.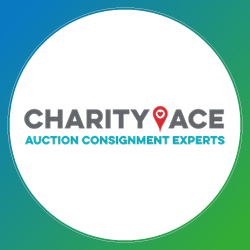 9. CharityACE
Overview - Auction item consignment service
Similar to Winspire, CharityAce is an auction package consignment service for charity auction events. CharityACE's quality service gives you time to plan your silent auction by providing proven exclusive experience packages for every audience.
CharityACE's no-risk policy is budget-friendly, so your annual budget won't be affected. Alleviate risk by partnering with a well-known consulting service to accelerate your fundraising goals.
Why we like this auction service
CharityACE's consultants provide a strategic approach to your specific auction needs. Their expert team partners with you to fill in gaps and ensure all of your guests have something to bid on.
CharityACE has experience supporting over 1,000 auctions, so even as an auction newbie, you can trust their extensive resume. Plus, their premium package options save you money and delight your donors.
Pricing
Because CharityACE offers free consultations and no upfront costs, their pricing options vary. Refer to their website for a more detailed description of their process.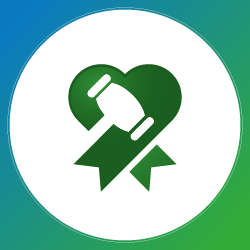 10. Auctria
Auctria – Detailed bidder and donor-tracking silent auction software
Auctria silent auction software offers a useful strategy that lets you track donor and bidder details so you know who donated which item and can provide detailed bidder receipts. Depending on your preference, these receipts can be delivered to donors via email or paper.
With Auctria's built-in report generation, you can analyze post-silent auction data to prepare for your next charity event. That way, you can avoid previous mistakes and identify winning strategies.
Why we like this auction software
Auctria's silent auction software platform lets you streamline and manage donors, procurement, bidding, and checkout all in one place. Schools and nonprofits use Auctria to stay up to date with their bidding items with real-time updates.
Auctria's software provides a dedicated website template for you to create a professional online presence prior to the event.
Auction software pricing
Auctria provides flexible pricing based on event needs.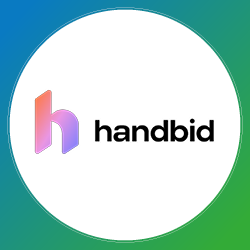 11. Handbid
Overview - App-based silent auction software
Handbid's charity auction tool replaces the tedium of paper bidding, helping nonprofits host dynamic, fast-paced events. Their user-friendly mobile app quickly sends updates and enables you to create and edit auction items as needed.
Why we like this auction software
Handbid's software solution solves three common silent auction problems—long lines at check-in and check-out, human errors in data entry, and slow auction administration.
Their mobile bidding makes it easy for guests to bid and check other bids, so that they can spend more time having fun and browsing items and less time hovering over a few must-have prizes. All in all, Handbid's high user experience rating sets them apart from other silent auction software providers.
Auction software pricing
Handbid offers "Do it Yourself" or "Whole Shebang" pricing differences options to fit your auction needs. As a bonus, their text-to-give functionality is included in every pricing package.
How to Select the Right Silent Auction Software
After browsing our top picks, you likely have a couple of auction software solutions in mind. But before you solidify your choice, let's cover a checklist to ensure you've picked the best option for your nonprofit:
List out your silent auction needs
Compile a list of must-haves for your next silent auction. Take into consideration major factors like the scale of your silent auction, how you will procure items, your budget, and your auction staff's experience.
From there, you can determine which software capabilities best align with your silent auction needs. For instance, if you're planning to throw a smaller silent auction, you may not need extensive auction item consignment services and instead prioritize solutions with high-value customer service and customizable campaign templates.
On the flip side, if you're planning a larger event, capabilities like donor data tracking and automated guest thank you letters are absolute musts. By listing out your needs ahead of time, you'll be empowered to choose the one best for your auction event.
Consider your audience's preferences
Audience preference is a huge indicator of which auction software will work best for you. What sort of auction items are they expecting? How would they like to place their bids?
Determine what your audience's ideal silent auction experience is and align your team on how to best deliver it. Factor your audience's preferences into your previously outlined fundraising goals to solidify your auction software choice.
For instance, if you have planned a higher-end silent auction with fewer auction items, you should prioritize choosing a platform that can provide extensive item descriptions which would be necessary for more expensive items.
On the other hand, if your silent auction audience is representative of a wide variety of economic backgrounds, you may want to consider choosing a platform that enables your team to quickly enter several auction items at once. That way, you can ensure everyone has an item to bid on.
Research top silent auction picks
Research! Research! Research! Learn more about your top silent auction picks before committing to a solution. Watch demos, review customer testimonials, and narrow down your essential feature lists. Review pricing to determine which software will provide the best ROI for your silent auction.
Wrapping Up
Choosing the right silent auction software should make your life easier, not more difficult. Prioritize communication with your team, review your fundraising goals, and reference your budget to choose the best software for your silent auction.