A Brand New Look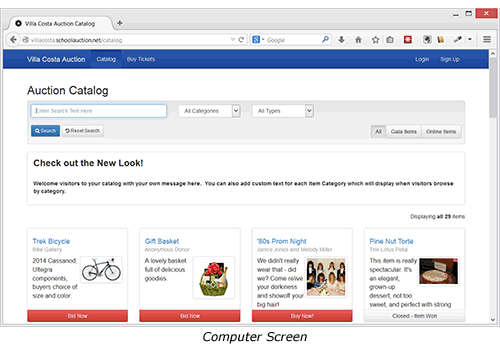 "The only person that likes change is a wet baby."

Mark Twain
Mr. Clemens was brilliant, no? Still, sometimes change is necessary. We just launched the most extensive revision to our software ever, and we want to take a moment to explain what we did and why, so that you have some perspective on the changes. Warning - this is a long post - there's a lot to talk about.
Highlights:
New responsive design works well on tablets & phones
Mobile-Optimized Self Check-Out
Online Auction Changes
Easier Customization of Site Design
Re-Arranged Admin Section
Responsive Design
The most prominent changes are to the display layer of the software - the layout of the screens, and the technology used to draw them. We initially wrote our software before the first iPhone had been released - before most of our customers had phones or tablets that they might want to use to access it. And if you have ever tried to access your auction website through your phone or tablet browser, you'll know it was not a great experience. (Usable, if you were patient and persistent. But not efficient.)
Now, that's changed. Our application is now fully_responsive_ - meaning that it scales up and down beautifully to work on whatever screen size you are displaying it on. Try it out on your smartphone - we're sure you will appreciate the difference.
Mobile-Optimized Self Check-Out
Speaking of smartphones, this release also brings a feature we are incredibly excited about - Mobile-Optimized Self Check-Out. You can now offer your gala-auction guests the ability to check themselves out at the end of your event, from their smartphone.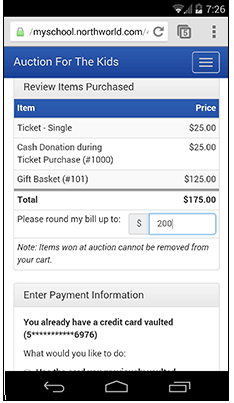 You can (and should) still offer a regular check-out desk for those guests who don't want to - but you'll be amazed at how few guests need or want to. At the auctions run by the groups who beta-tested this for us, 90% of the guests used their phones to check out - and were really pleased to have the option. If you want to see this in action, sign up for a spot in one of our Thursday webinars - we'll give you the opportunity to play guest and check yourself out on your own phone.
Online Auction Upgrades
This release also brings some significant changes to the Online Auction part of our software. The new, responsive design makes browsing the catalog of items available for bidding online, and bidding on them, much easier to do from a smartphone or tablet. And we've done away with the two separate catalogs; now there is a single catalog page for your guests to peruse, with items tagged as Bid Now or Bid At Event.
There are also buttons they can click to filter the catalog and show only the items available for online bidding, or only the ones that they can bid on at your gala.
Easier Site Customization
Also, it is now much easier to make simple customizations of the look-and-feel of the site. The color scheme and font are now easily changed; you have a choice of 9 pre-designed themes, and an easy-to-use color picker that you can use to adjust any of these.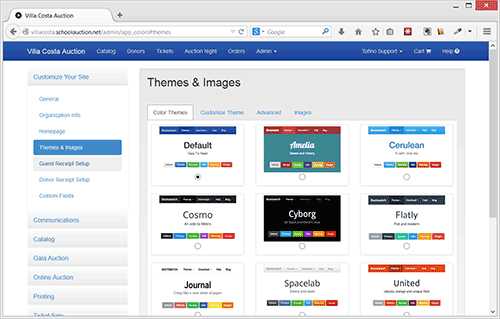 Of course, a designer who knows CSS can still take complete control of the layout, colors, and more. But now, those of you who do not have a web designer on your auction team can also make some easy adjustments to make your auction website match your school colors, etc.
Admin Section Cleanup
The last major portion of this revision is a re-working of the Admin section, to group site settings together in a more logical way. This will likely be the place where most of the learning curve will come, but fear not - everything you've come to rely on is still there, and we're here to help while you find your way around.
As of July 1, all new event websites will be created with the new code. Old sites that were created for events that have already occured won't be upgraded; sites that were created prior to July 1 for events that have yet to happen will be upgraded over the next few weeks, but we will contact you individually before doing so.
Roger
See our new help site.