Case Study: Eastern Washington University
The second edition of our blog series Case Study comes from way out east in the great state of Washington. Laurel Hosmer, Assistant Athletic Director of Revenue and Development, and her development team at Eastern Washington University not only organized an online auction in less than 48 hours(!) they almost doubled their gross revenue from the previous year.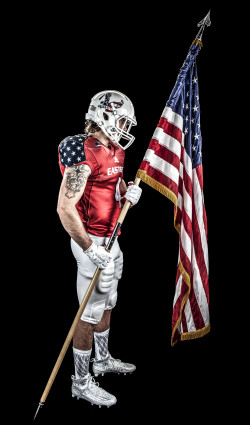 After making the decision to add online bidding to an already profitable annual auction, Laurel set to work searching for the perfect platform to manage some 8,000 invitees. "In previous years our auction has all been very manual," Laurel shares. "We used paper bid sheets and had a table set up at the stadium. And unfortunately we don't have many metrics from previous year's participation because of it."
Eastern Washington University has been running this unique Military Appreciation Auction for five years. Each November, adidas creates unique military inspired football jerseys that are worn by university players then auctioned off at the Homecoming game. This auction is one of two Laurel and her team run annually. Because of the popularity of this auction, Laurel wanted parents, alumni and supporters who were unable to physically be at the game to still be able to participate. "I discovered SchoolAuction.net less than a week before (the auction) and was able to get it up and running within a day. We opened the online auction one day before the Homecoming game. A lot of people were really happy they could participate remotely."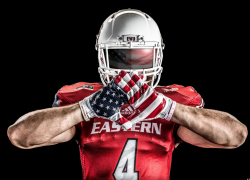 "It was incredibly successful for our first online auction. There is always a learning curve when you implement change but everyone was really happy with the platform. It worked out great for people living far away if their kid was at the college."
During the big game, Laurel and her team directed participants to go online using a previously purchased domain name that was simple to communicate in the stadium, making several PA announcements with the website address. Similar to the 'offline' years prior, there were four volunteers set up at a table to help access the site or answer any questions. And winners could pick up their jerseys if they weren't being worn by a player at the time. In total, there were close to 600 active participants with 112 official bidders grossing over $35,000, a $15K increase from last year!
"Post auction went really well. The ease of creating and sharing reports has made a big difference. Our second annual fundraiser is in the spring and we'll be using an online element too."
Thanks, Laurel, for sharing your experience. We look forward to seeing how your spring auction goes. Check out more photos of the jerseys here.