Case Study: Lakeridge Jr. High
Welcome to our newest blog series, Case Study, where we highlight fundraising auctions throughout the country, sharing their experience with our software as well as some insider tips and tricks for auction success.
The first in this series highlights a first time fundraising event at a junior high, which was previously included in their feeder high school fundraiser until two years ago. The stars were aligned for Lakeridge Jr. High in Lake Oswego when Julie Davidson signed on to chair their event. Using her background in event planning, Julie and her team have run a successful event two years in a row, raising significantly more money each year, while providing their guests with a fun and easy experience (and a cool Oktoberfest theme to boot!). We sat down with Julie to gain some insight into how our software helped make it happen.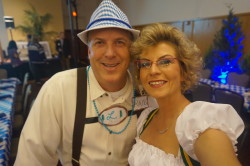 happy guests
What made you decide to use SchoolAuction.net?
I first became familiar as a volunteer parent at Westridge Jr. High event. When it came time to using it for an event I would chair, not only was it the right price and did what we needed it to do but it was easy to use and there were not a lot of bugs in the software. Also, unlike other companies, there was no outside marketing to my guest list.
What was the onboarding process like for you and your team? First year using compared to second year?
The online help features and demos were extremely helpful and how I learned to use the software most. I loved the online help quite a lot and the screenshots for visuals.. And the training session with volunteers prior to the event was quick and useful. I directed a lot of our volunteers to use the online help because it was the best. We didn't just use the software for our big event. We also used it for pie sales during the year!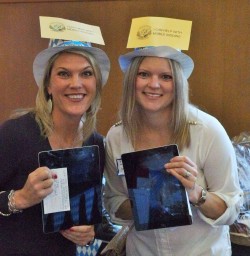 mobile bidding helpers
Did you see any changes in your event when you decided to use mobile bidding?
Well, we were the first SchoolAuction.net customer to use mobile bidding and we kind of took a chance. Everything is online now so mobile bidding seemed like the way to go. It was like not putting all our eggs in one basket. We knew the community was eventually going to use it so why not. Guests being on their phone the whole night was a concern because creating a sense of community is one of our top goals for the event but we didn't see a problem with that. People still had conversations and mingled. Our other concern was if the software would work properly that night. Opening a preview a few days before the event allowed us to sort out any kinks. We also had volunteers walking around with iPads the night of the event so people could find help that way.
I was concerned that all the auction items get the same real estate on mobile bidding and we wanted to highlight some items more than others so the second year around we limited mobile items to our favorite, most coveted bids. We made more money having less items in our second year! In the end, mobile bidding isn't for everyone. It has to be the right crowd. Jr. High parents were our sweet spot.
What's your favorite/most useful feature on the software?
I love how quick it is to set up our individual site. There are a lot of ways to customize it too. The catalog is intuitive. Although we didn't use it for our school auction, I like the assigned seating function, which I used at a different auction with great success. I would highly recommend using the function to sort seating for the sake of the volunteers.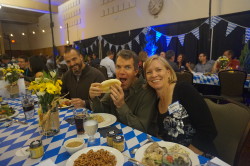 Oktoberfestivities
How has the software changed your experience as an auction chair?
I felt the guest experience is really enhanced with the software. I can keep in good communication with them before the event. There is definitely less waiting in line to check in. And the guests felt confident we had all their information handled and taken care of. The overall experience was streamlined. Everything else is on line so school auctions should be too. Pre and post event was easier too, cutting down on printing and the use of Excel spreadsheets saved money and time. Streamlining all these processes of our event allowed us more time to focus on the community, which was most important to us.
{Would you like your auction to be featured in a Case Study? Have special insights you would like to share with our community? We would love to chat with you! Please email miranda@schoolauction.net.}